(No, that doesn't mean letting the furry friends run wild!)
BY JANICE COSTA
APR 21, 2021
The kitchen may be the heart of the home, but pet owners know that the four-legged family members are the real heartbeat. So how do you make your kitchen a warm and welcoming place to every member of your family—without sacrificing style?
Just as great design seamlessly melds fashion and function, the best pet-friendly kitchens create stylish, integrated spaces that allow your pets to be part of the family, without adding clutter or creating safety hazards for paws and tails. Here's what to consider when creating your pet-friendly kitchen.
Create a feeding space
There's nothing quite so appealing as great cuisine surrounded by the warmth and comfort of home – and your pet probably feels the same way. So when planning space for family meals, it makes sense to include a spot for dogs and cats, too. But...nothing is less appealing than a stray dog hair in your food. So it's all about containment.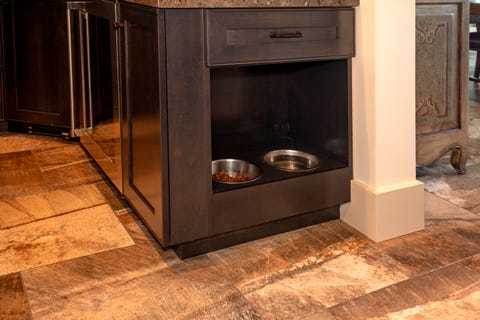 When tucked into the bottom of a run of countertops, pet food dishes can be totally unobtrusive.
RICHARD LANDON DESIGN
Designer Gail Monica Dent of Provanti Designs likes to create a safe place where dogs can enjoy meals out of the main traffic flow. Rather than placing bowls where people can trip over them and water can splatter, she prefers a separate feeding station in an open cabinet area.

Love knowing all the latest design trends? We've got you covered.
Robin Rigby Fisher of Robin Rigby Fisher Design often designs cat-specific kitchen feeding stations. As she points out, "cats hate to have their tails stepped on…but they also tempt you by sticking their tails straight out when eating." She solved this problem for one client by creating a corner cabinet with no floor. "The cork runs under the cabinet and now these kitties have a safe place to eat, out of the way, and with easy-to-clean flooring.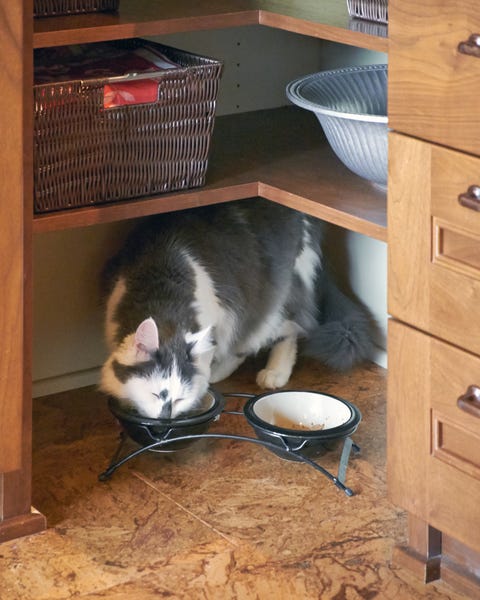 Knowing that cats like to tuck themselves into boxes and corners, Designer Robin Rigby Fisher created a kitty feeding station out of the main traffic flow in this kitchen, adding easy-to-clean cork flooring.
ROBIN RIGBY FISHER DESIGN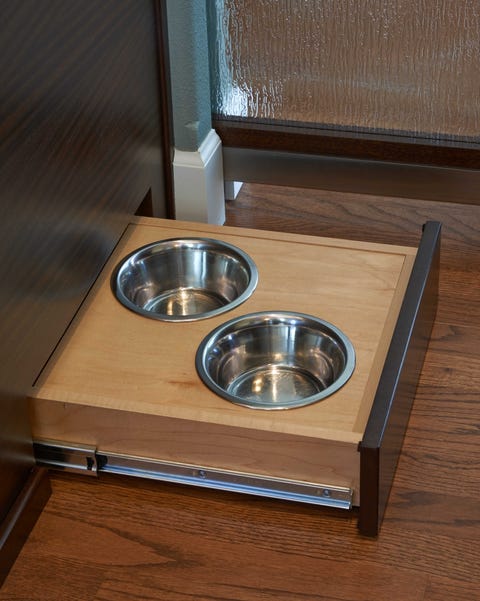 This pet feeding drawer provides easy access for a quick meal, then rolls shut when not in use.
ROBIN RIGBY FISHER DESIGN
A cabinet with a pull-out pet drawer is a great solution for pets that eat neatly, as these can be tucked out of sight when not in use. However, they're not ideal for messy eaters, or pets that graze throughout the day. And for dogs that dribble water, a waterproof drawer mat is a must!
Dedicated water stations are the newest hot thing for the pet-friendly kitchens. Pot fillers set at dog height may seem over the top, but they're super convenient for refilling water bowls. One caveat: they're not always easy to relocate, which becomes problematic if you decide to go from, say, a Labrador to a Yorkie.
Welcome napping
As the warmest room in the home – and the one with the most comforting smells–it's no surprise that pets gravitate toward the kitchen. Dogs love food and being with "their pack," and cats like to be where the action is, so if the family is hanging out in the kitchen, it's likely that your pet will be there, too. Of course, this can be problematic when you're preparing meals and they insist on being exactly where you're stepping!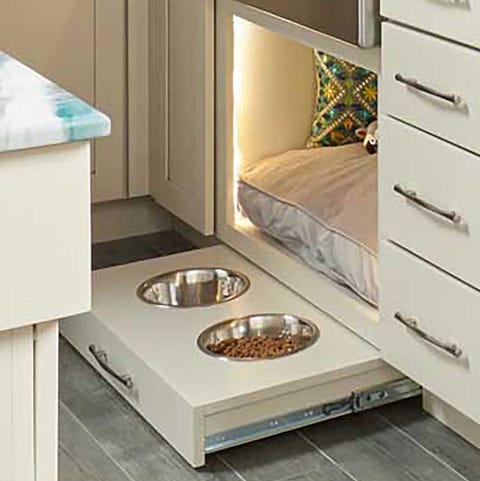 The area under a sink is often wasted space, making it a perfect place to stash a cozy dog bed out of the main traffic flow.
WELLBORN CABINET
Rather than shoo them away (when they'll just be back 30 seconds later), why not create a private space where they can relax close to the family, without getting underfoot?

Since most of us don't like kneeling to retrieve items from base cabinets, those lower cabinets often translate to wasted space. Designer Richard Landon of Richard Landon Design likes to make use of those spaces by creating out-of-the-way pet resting spots. He notes, "In our former morning room, we used the recess under the steam oven for a dog crate."
A window nook, cubby beneath an island or under-sink cabinet can also be an ideal space to stash a pet bed. (If you're using an under-sink area, be sure you consider the noise factor; a sound dampening kit may be needed, since pets' ears are more sensitive than that of their human counterparts).
Keep it contained
Because the kitchen is such a comforting space, some homeowners choose this room to contain their dog when house access must be restricted. Pet gates can help with this. Like baby gates, these have become increasingly stylish and sophisticated, with designs ranging from warm woods to hand painted shoji-style screens to metals in hot designer finishes.
This roll-away pet gate offers a stylish solution for keeping pets out of the dining room during meals – and as an added bonus, features "noseprint-proof glass."
ROBIN RIGBY FISHER DESIGN
However, even the prettiest pet gate can still be cumbersome. That's why designers like Robin Rigby Fisher favor pocket door-style gates that can literally slide out of sight when not in use.
While designing a kitchen for a client with three "food-focused" Italian Greyhounds, Fisher came up with the idea of a stylish gate that would keep the dogs out of the dining room during meals, without disrupting the traffic flow during other times. She explains, "The gate is made from mahogany, but capped at the top and bottom with stainless steel to minimize damage from their nails. The glass was selected to minimize doggie nose prints – the textured side faces the dining room and the smooth side faces the kitchen." When meals are finished, the gate simply rolls out of sight into the wall.
Be smart with storage
Kitchens are prone to collecting a hodgepodge of paraphernalia, and pets bring their own unique brand of clutter into the space. From pet bowls and food to leashes and grooming supplies, pets tend to come with plenty of "stuff." Fortunately, today's cabinet storage systems offer a wealth of solutions for taming all that clutter.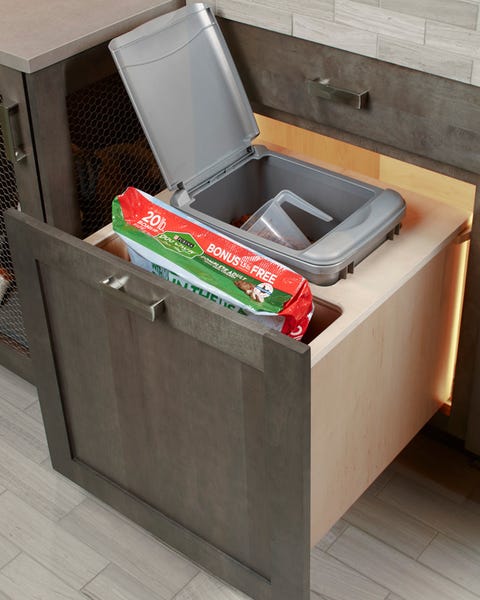 WELLBORN CABINET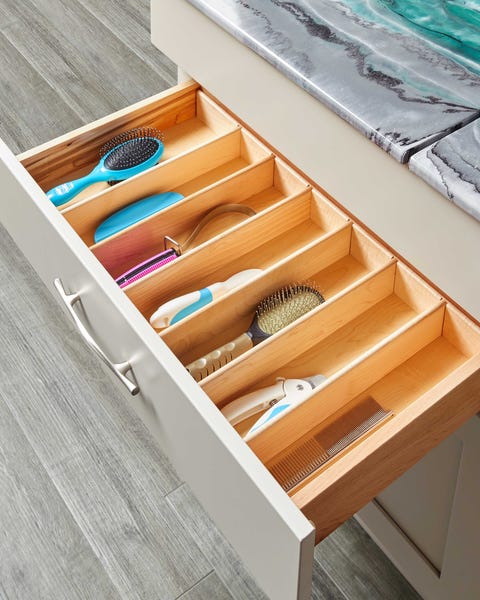 WELLBORN CABINET
Waste basket or recycling pullouts can provide bin storage for food, while a dedicated cabinet with drawer dividers can create organized spaces for all of your pets' items. Don't forget a designer toy bin so your pet can enjoy family, food, fun and frolicking–in short, all of their favorite things in one place!
Article By: House Beautiful