How is the Canmore market doing?
We have been asked this question many times over the past few weeks.
As the Covid-19 event has progressed, many have been wondering how this will affect our real estate market. None of us know for certain how the market will fare overall, but we have analysed the limited data we have and seen some trends:
April statistics for Canmore show the number of final sales were down 38% for the month (compared to last April), with new listings on the market down 64% vs April 2019. A decrease in the supply along with demand helps to stabilize pricing. However, in our current market we have seen a slight drop in average sale price this month compared to last year April ($754k vs $768k). This figure is hard to interpret given our small market and small sample size – a few lower sales can have a disproportionate effect on average price.
We have however seen some positive signs. Residential sales have not been changed that much compared to vacation condos. We are seeing very good online traffic for our properties and we are starting to field numerous inquiries from both local and out of town buyers. Our brokerage has been busy receiving showing requests and we have seen offers and firm sales on several properties.
As restrictions begin to be revised across Canada, we are hopeful to slowly return to our new normal. The demand by buyers for certain segments of the market has diminished, but so has the supply of new listings, so for now sale prices have not been influenced too much.
We continue to add new marketing initiatives, including video tours of our listings, virtual open houses, higher social media action and different channels added to our strategies, along with virtual information sessions. Our main concern during this period is for the health of our clients and ourselves and families. We look forward to helping you with your real estate needs in a safe manner.
Real Estate Statistics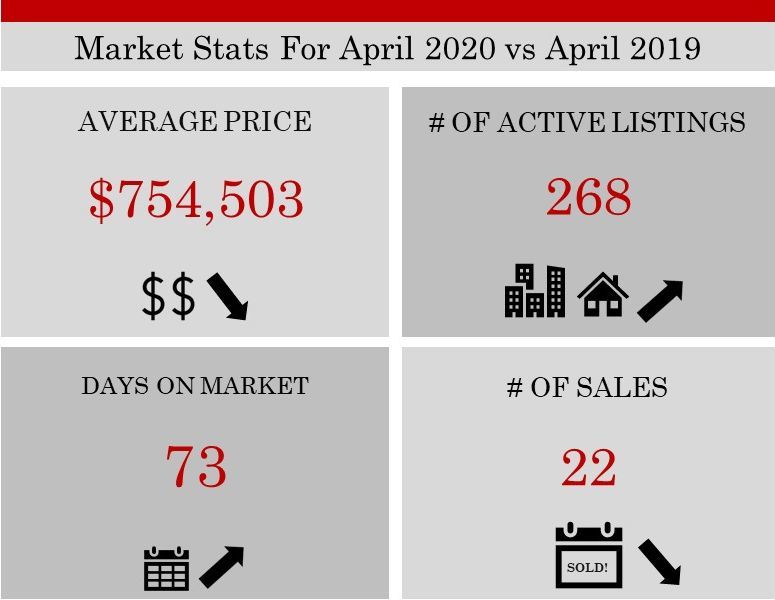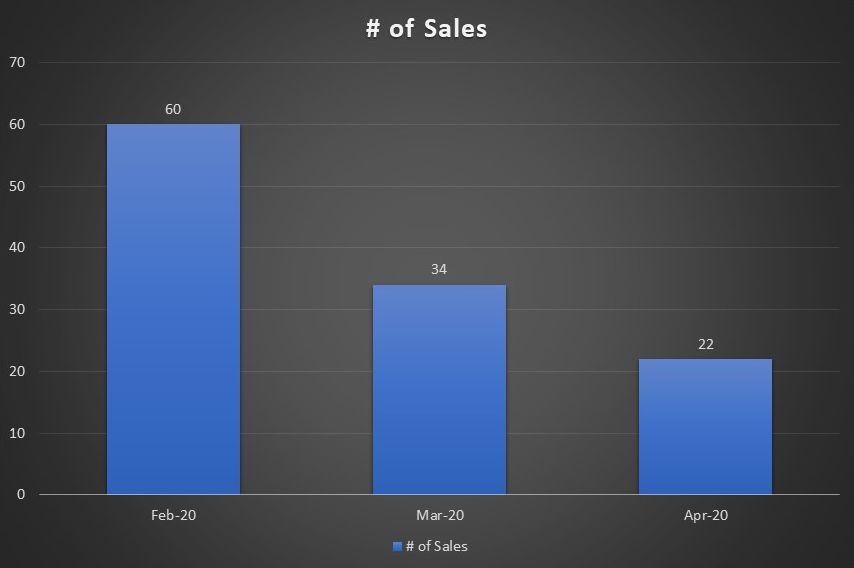 Thinking about deferring your mortgage?
News that Canadian financial institutions were offering some mortgage deferrals sent investors running to the banks in early April, asking for a stay on their payments as personal incomes and investment portfolios were being wiped out by the coronavirus pandemic. Those deferrals seem like a lifeline for investors facing a liquidity crisis, but one leading mortgage broker thinks the impacts of a deferral need to be considered closely.
Dalia Barsoum, president and principal broker at Streetwise Mortgages, says that investors should consider alternatives to mortgage deferrals. She explained that these deferrals aren't gifts or grants, as they come with a cost, a likely increase to future payments, an impact on future financing availability and a wider implication for an investor's credit. Barsoum says despite the pain investors are feeling, they shouldn't just take mortgage deferment as their first line of support.
"We look at mortgage deferrals as a last resort tool for investors to utilize to help ease financial destress," Barsoum says.
Barsoum outlined what some of those sources of financial distress are. The primary pressure on real estate investors stems from unemployment, both the loss of their own job or, if they own a rental property, the loss of a tenant's income. The temporary collapse of Airbnb, too, has resulted in an increase to rental stock in some Canadian markets, putting downward pressure on rents. Further, softening property valuations in some markets, have made it more challenging to extract equity when it is needed most. Even committed deals, not yet closed, might be torpedoed by a borrower's inability to get a mortgage. The financial pressures on a real estate investor are widespread, perhaps enough to make mortgage deferral seem like the right option. Barsoum says investors need to look at the long-term implications of that short-term fix.
Her first concern is cost, explaining that interest will accrue on the deferred amount for the duration of the period. Each lender, too, applies its only methodology of repayment for the accrued amount after the deferral period. Investors need to know what that post-deferral arrangement will look like before they sign off on anything.
That methodology could also result in an increase to future monthly payments. That increase will vary based on the mortgage size, interest, and duration of the deferral. An increase in the debt load will, as well, likely impact an investor's ability to qualify for future financing, especially if their new payments are higher across several properties within the portfolio.
Though a deferral is different from a default, and should not have any negative impact on credit, that requires an adjustment to lenders' systems allowing them to report deferrals in the right way. Barsoum thinks that the sheer volume of deferral requests has increased the risk of reporting errors.
"If you are considering a deferral and can wait on it another month, then please do so to allow time for the first round of deferrals to go through the systems and see how that turns out," Barsoum says. "Further, if you have chosen to defer by now, then please monitor your credit report for the next 3 months."
Current financing arrangements, too, could prove challenging to obtain for investors with an active deferred payment. The logic, as Barsoum sees it, is that in taking a deferment an investor has told the lender whether they "can or can't" afford the payment. In such a binary situation, taking the deferment puts you in the "can't pay" camp, which carried long-term implications.
"My suggestion is to first examine your finances, challenges and plans with your current mortgage advisor," Barsoum says. "Come up with an action plan before jumping on mortgage deferrals as the first line of support because of panic, fear of the unknown, or fear of missing out on this support tool."
Article by: Canadian Real Estate Wealth
Click HERE to our full Newsgram to see our featured listings