Housing agency now backing $502 billion in Canadian mortgages
The average Canadian with a CMHC-insured mortgage owns 35 per cent of their home and owes $260,826 on their mortgage, the agency says. (Jae C. Hong/Associated Press)
Canada's housing agency saw a sharp decline in the number of home buyers who qualified for mortgage insurance under tougher rules implemented last fall.
In its quarterly financial results posted Tuesday, the Canada Mortgage and Housing Corporation said that it insured just over 48,000 new mortgages between January and March, a 41 per cent decline from the previous three-month period.
The value of those loans dropped to just under $8.3 billion, down from $14.3 billion in the quarter that closed out 2016.
The January to March period in question is the first full quarter since Ottawa changed the mortgage rules last October. Among the new rules is a requirement that borrowers pass a "stress test" to gauge their ability to pay back the loan if mortgage rates were to rise.
The goal of that policy effectively was to make it harder to get insurance, which would help make sure that people buying houses are financially able to do so. Judging by Tuesday's numbers, that policy seems to be having its desired effect, as the CMHC said the new regulations were the biggest factor in the decline in new insured mortgages.
"Both purchase and refinance volumes decreased, largely due to new regulations announced by the government in the fourth quarter of 2016," the CMHC said.
The new rules also took aim at so-called portfolio insurance, which is insurance that lenders take out in bulk to insure their uninsured loans with the CMHC.
Since last year, mortgages on homes worth more than $1 million, as well as mortgages on investment properties, are no longer eligible to get CMHC portfolio insurance. Those limitations pushed portfolio insurance at the CMHC down by 87 per cent, compared to the end of 2016, to just under 4,700 units during the first three months of 2017.
All in, the CMHC is now backing Canadian mortgages valued at $502 billion. That's well below the cap of $600 billion that the CMHC must stay under, and it's also a 10 per cent decline from a year ago.
If the CMHC continues to give out fewer mortgages and less mortgage insurance because of tougher new rules, that $502 billion figure will likely come down further still.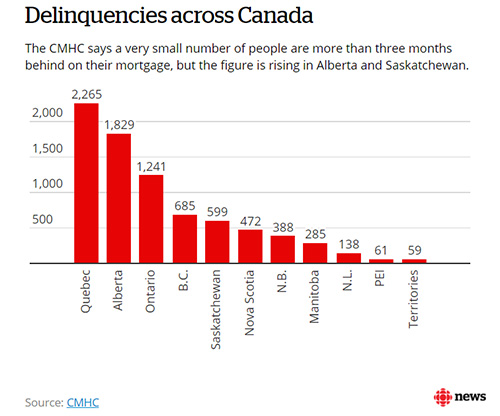 Delinquencies decline, except in Alberta and Saskatchewan
One reason for cautious concern in the numbers is that, while Canada's mortgage delinquency rate is still very low, at just 0.32 per cent, the agency did note a slight uptick in Alberta and Saskatchewan in the number of people falling more than 90 days behind on their mortgage payments.
As of the end of March, there were 8,022 Canadians considered to be delinquent on their home loans, the CMHC said.
The average CMHC-insured homeowner owns more than 35 per cent of the equity in their home, and owes $260,826 on their mortgages as of the end of March, the agency said.
By Pete Evans